NCCER Pipeline Program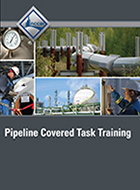 The following is a list of NCCER's 127 covered task training modules. Each of these modules focus solely on the covered task that is indicated, align to API RP 1161 (3rd edition) and provide the knowledge necessary to pass the corresponding test.
To get started follow these steps:
Select the Covered Task Module Title you would like to purchase below.
You will be redirected to the Vital Source website where you can add that module to your cart.
Create a Vital Source account and check out
You can then access your digital copy by signing into www.vitalsource.com and clicking on bookshelf on the top right.
For more information on the pipeline program visit www.nccer.org/pipeline
| | | | |
| --- | --- | --- | --- |
| Mod/CT Number | Mod/Task Title | Book Title | ISBN |
| AOCCC-17 | Abnormal Operating Conditions Control Center | Pipeline Corrosion Control Level 1 | 9780134805795 |
| AOCFG-17 | Abnormal Operating Conditions Field & Gas | Pipeline Corrosion Control Level 2 | 9780134805719 |
| CT1_1-17 | Measure Structure-to-Soil Potentials | Pipeline Corrosion Control Level 2 | 9780134795461 |
| CT1_2-17 | Conduct Close Interval Survey | Pipeline Corrosion Control Level 2 | 9780134795485 |
| CT1_3-17 | Test and Detect Interference | Pipeline Corrosion Control Level 2 | 9780134795492 |
| CT1_4-17 | Inspect and Perform Electrical Test of Bonds | Pipeline Corrosion Control Level 2 | 9780134795508 |
| CT1_5-17 | Inspect and Test Electrical Isolation | Pipeline Corrosion Control Level 2 | 9780134795638 |
| CT2_1-17 | Verify Test Lead Continuity | Pipeline Corrosion Control Level 1 | 9780134758299 |
| CT2_2-17 | Repair Damaged Test Leads | Pipeline Corrosion Control Level 1 | 9780134758305 |
| CT2_3-17 | Install Test Leads by Non-Exothermic Welding Methods | Pipeline Corrosion Control Level 1 | 9780134758329 |
| CT2_4-17 | Install Test Leads by Exothermic Welding Methods | Pipeline Corrosion Control Level 1 | 9780134758336 |
| CT3_0-17 | Obtain a Voltage and Current Output Reading from a Rectifier to Verify Proper Performance | Pipeline Corrosion Control Level 1 | 9780134758343 |
| CT4_1-17 | Troubleshoot Rectifier | Pipeline Corrosion Control Level 1 | 9780134758367 |
| CT4_2-17 | Repair or Replace Defective Rectifier Components | Pipeline Corrosion Control Level 1 | 9780134758374 |
| CT4_3-17 | Adjust Rectifier | Pipeline Corrosion Control Level 1 | 9780134758381 |
| CT5_1-17 | Examine for Mechanical Damage on Buried or Submerged Pipe | Pipeline Corrosion Control Level 1 | 9780134758398 |
| CT5_2-17 | Examine for External Corrosion on Buried or Submerged Pipe | Pipeline Corrosion Control Level 1 | 9780134758404 |
| CT5_3-17 | Inspect the Condition of External Coating on Buried or Submerged Pipe | Pipeline Corrosion Control Level 1 | 9780134758411 |
| CT7_1-17 | Visual Inspection of Atmospheric Coatings | Pipeline Corrosion Control Level 1 | 9780134758428 |
| CT7_2-17 | Prepare Surface for Coating Using Hand and Power Tools | Pipeline Corrosion Control Level 1 | 9780134758435 |
| CT7_3-17 | Prepare Surface for Coating by Abrasive Water Blasting | Pipeline Corrosion Control Level 1 | 9780134809106 |
| CT7_5-17 | Apply Coating Using Hand Application Methods | Pipeline Corrosion Control Level 1 | 9780134809120 |
| CT7_6-17 | Apply Coating Using Spray Application | Pipeline Corrosion Control Level 1 | 9780134809137 |
| CT7_7-17 | Perform Coating Inspection | Pipeline Corrosion Control Level 1 | 9780134809151 |
| CT8_2-17 | Measure Wall Thickness with Handheld Ultrasonic Meter | Pipeline Corrosion Control Level 2 | 9780134795614 |
| CT8_3-17 | Measure Corroded Area | Pipeline Corrosion Control Level 2 | 9780134795522 |
| CT9_1-17 | Install Bonds | Pipeline Corrosion Control Level 2 | 9780134795645 |
| CT9_2-17 | Install Galvanic Anodes | Pipeline Corrosion Control Level 2 | 9780134795652 |
| CT9_3-17 | Install Rectifiers | Pipeline Corrosion Control Level 2 | 9780134795669 |
| CT9_4-17 | Install Impressed Current Groundbeds | Pipeline Corrosion Control Level 2 | 9780134795676 |
| CT9_5-17 | Repair Shorted Casings | Pipeline Corrosion Control Level 2 | 9780134795690 |
| CT9_6-17 | Install Electrical Insulating Device | Pipeline Corrosion Control Level 2 | 9780134795706 |
| CT10_1-17 | Insert and Remove Coupons | Pipeline Corrosion Control Level 2 | 9780134795539 |
| CT10_2-17 | Monitor Probes (Online) | Pipeline Corrosion Control Level 2 | 9780134795584 |
| CT11_0-17 | Monitoring and Controlling the Injection Rate of the Corrosion Inhibitor | Pipeline Corrosion Control Level 2 | 9780134795461 |
| CT12_0-17 | Visually Inspect Internal Pipe Surface | Pipeline Corrosion Control Level 1 | 9780134758282 |
| CT14_1-17 | Locate Line | Pipeline Maintenance Level 3 | 9780134758138 |
| CT14_2-17 | Install, Inspect, and Maintain Permanent Marker | Pipeline Maintenance Level 3 | 9780134758145 |
| CT20_0-17 | Install, Inspect, and Maintain Temporary Marker | Pipeline Maintenance Level 3 | 9780134758169 |
| CT15_1-17 | Visually Inspect Surface Conditions of Right-of-Way | Pipeline Maintenance Level 2 | 9780134795447 |
| CT16_1-17 | Inspect Navigable Waterway Crossing | Pipeline Maintenance Level 2 | 9780134795454 |
| CT19_1-17 | Valve Body Winterization or Corrosion Inhibition | Pipeline Mechanical Level 2 | 9780134805771 |
| CT19_2-17 | Valve Lubrication | Pipeline Mechanical Level 2 | 9780134805788 |
| CT19_3-17 | Valve Seat Sealing | Pipeline Mechanical Level 2 | 9780134795423 |
| CT19_4-17 | Valve Stem Packing Maintenance | Pipeline Mechanical Level 2 | 9780134805801 |
| CT19_5-17 | Adjust Actuator/Operator, Electric | Pipeline Mechanical Level 2 | 9780134805818 |
| CT19_6-17 | Adjust Actuator/Operator, Pneumatic | Pipeline Mechanical Level 2 | 9780134805832 |
| CT19_7-17 | Adjust Actuator/Operator, Hydraulic | Pipeline Mechanical Level 2 | 9780134805849 |
| CT20_0-17 | Inspect Main-Line Valves | Pipeline Mechanical Level 3 | 9780134805856 |
| CT21_1-17 | Repair Valve Actuator/Operator, Pneumatic | Pipeline Mechanical Level 3 | 9780134809175 |
| CT21_2-17 | Disassemble and Reassemble Valves | Pipeline Mechanical Level 3 | 9780134805863 |
| CT21_3-17 | Internal Inspection of Valves and Components | Pipeline Mechanical Level 3 | 9780134805870 |
| CT21_4-17 | Repair Valve Actuator/Operator, Hydraulic | Pipeline Mechanical Level 3 | 9780134811451 |
| CT21_5-17 | Repair Valve Actuator/Operator, Electric | Pipeline Mechanical Level 3 | 9780134811468 |
| CT22_1-17 | Inspect Tank Pressure/Vacuum Breakers | Pipeline Mechanical Level 3 | 9780134811475 |
| CT22_2-17 | Inspect, Test, and Calibrate HVL Tank Pressure Relief Valves | Pipeline Mechanical Level 3 | 9780134805887 |
| CT23_1-17 | Maintain and Repair Relief Valves | Pipeline Mechanical Level 3 | 9780134805894 |
| CT23_2-17 | Inspect, Test, and Calibrate Relief Valves | Pipeline Mechanical Level 3 | 9780134805900 |
| CT24_1-17 | Maintain and Repair Pressure Limiting Devices | Pipeline Mechanical Level 3 | 9780134805924 |
| CT24_2-17 | Inspect, Test and Calibrate Pressure Limiting Devices | Pipeline Mechanical Level 3 | 9780134805931 |
| CT25_1-17 | Inspect, Test and Calibrate Pressure Switches | Pipeline Electrical and Instrumentation Level 2 | 9780134809250 |
| CT25_2-17 | Inspect, Test and Calibrate Pressure Transmitters | Pipeline Electrical and Instrumentation Level 2 | 9780134809267 |
| CT26_0-17 | Verify or Set Protection Parameters for Programmable Controllers and/or Other Instrumentation Control Loops | Pipeline Electrical and Instrumentation Level 2 | 9780134809274 |
| CT27_1-17 | Routine Inspection of Breakout Tanks (API 653 monthly or DOT annual) | Pipeline Maintenance Level 2 | 9780134795478 |
| CT29_1-17 | Launching In-Line Inspection Devices | Pipeline Maintenance Level 3 | 9780134758176 |
| CT29_2-17 | Receiving In-Line Inspection Devices | Pipeline Maintenance Level 3 | 9780134758220 |
| CT30_0-17 | Test Overfill Protective Devices | Pipeline Electrical and Instrumentation Level 2 | 9780134809281 |
| CT31_0-17 | Inspect and Calibrate Overfill Protective Devices | Pipeline Electrical and Instrumentation Level 2 | 9780134809298 |
| CT32_0-17 | Observation of Excavation Activities | Pipeline Maintenance Level 2 Trainee Guide | 9780134716534 |
| CT33_1-17 | Determine Allowable Line Pressure in Section to be Moved | Pipeline Maintenance Level 3 | 9780134758251 |
| CT33_3-17 | Moving In-Service Pipeline | Pipeline Maintenance Level 3 | 9780134795713 |
| CT34_0-17 | Inspect Existing Pipe Following Movement | Pipeline Maintenance Level 2 | 9780134809205 |
| CT36_2-17 | Purging of Pipeline Facilities | Pipeline Maintenance Level 3 | 9780134812472 |
| CT36_3-17 | Sealing a Disconnected Portion of Pipeline | Pipeline Maintenance Level 3 | 9780134795737 |
| CT37_0-17 | Install or Repair Support Structures on Existing Above Ground Components | Pipeline Maintenance Level 2 | 9780134809205 |
| CT38_1-17 | Visually Inspect Pipe and Pipe Components Prior to Installation | Pipeline Maintenance Level 2 | 9780134796109 |
| CT38_3-17 | Visually Inspect that Welds Meet DOT Requirements (API 1104) | Pipeline Maintenance Level 3 | 9780134796079 |
| CT39_0-17 | Backfilling a Trench Following Maintenance | Pipeline Maintenance Level 2 | 9780134796123 |
| CT40_3-17 | Apply Composite Sleeve | Pipeline Maintenance Level 3 | 9780134796116 |
| CT40_4-17 | Install Mechanical Bolt-On Split Repair Sleeve | Pipeline Maintenance Level 3 | 9780134796055 |
| CT40_5-17 | Install Weldable Compression Couplings | Pipeline Maintenance Level 3 | 9780134796062 |
| CT40_6-17 | Install and Remove Plugging Machine | Pipeline Maintenance Level 3 | 9780134808536 |
| CT40_7-17 | Installing a Tap 2 Inches and Under on a Pipeline System | Pipeline Maintenance Level 3 | 9780134808550 |
| CT40_8-17 | Installing a Tap Larger Than 2 Inches on a Pipeline System | Pipeline Maintenance Level 3 | 9780134808574 |
| CT40_9-17 | Install and Remove Completion Plug on Pipelines Larger than 2 Inches | Pipeline Maintenance Level 3 | 9780134808888 |
| CT41_0-17 | Conduct Pressure Test | Pipeline Maintenance Level 3 | 9780134808895 |
| CT42_7-17 | Welding | Pipeline Maintenance Level 3 | 9780134808901 |
| CT44_3-17 | Inspect, Test, and Maintain Flow Computer for Hazardous Liquid Leak Detection | Pipeline Electrical and Instrumentation Level 2 | 9780134809168 |
| CT44_5-17 | Prove Flow Meters for Hazardous Liquid Leak Detection | Pipeline Electrical and Instrumentation Level 2 | 9780134809311 |
| CT44_6-17 | Maintain Flow Meters for Hazardous Liquid Leak Detection | Pipeline Electrical and Instrumentation Level 2 | 9780134809359 |
| CT44_7-17 | Inspect, Test and Maintain Gravitometers/Densitometers for Hazardous Liquid Leak Detection | Pipeline Electrical and Instrumentation Level 2 | 9780134809328 |
| CT44_8-17 | Inspect, Test and Maintain Temperature Transmitters for Hazardous Liquid Leak Detection | Pipeline Electrical and Instrumentation Level 2 | 9780134809335 |
| CT50_0-17 | Purge Gas from a Pipeline (Gas) | Pipeline Operations Level 2 | 9780134805948 |
| CT51_0-17 | Purge Air from a Pipeline (Gas) | Pipeline Operations Level 2 | 9780134805955 |
| CT52_1-17 | Conduct Vegetation Survey | Pipeline Maintenance Level 2 | 9780134808529 |
| CT52_2-17 | Conduct a Leak Survey with a CGD | Pipeline Maintenance Level 2 | 9780134808543 |
| CT52_3-17 | Conduct a Leak Survey with a Flame Ionization Unit | Pipeline Maintenance Level 2 | 9780134808871 |
| CT54_0-17 | Test Remotely Controlled Shutdown Devices (Gas) | Pipeline Operations Level 2 | 9780134808390 |
| CT55_0-17 | Maintain Fixed Gas Detection Equipment | Pipeline Electrical and Instrumentation Level 2 | 9780134809342 |
| CT56_0-17 | Perform Incremental Pressure Increases to Uprate the MAOP (Gas) | Pipeline Operations Level 2 | 9780134809182 |
| CT57_0-17 | Operate Odorant Equipment | Pipeline Operations Level 2 | 9780134805979 |
| CT58_0-17 | Monitor Odorant Level | Pipeline Operations Level 2 | 9780134808406 |
| CT59_0-17 | Vault Maintenance (Gas) | Pipeline Maintenance Level 2 | 9780134808918 |
| CT63_1-17 | Start-up of a Liquid Pipeline (Field) | Pipeline Operations Level 2 | 9780134808420 |
| CT63_3-17 | Monitor Pressures, Flows, Communications, and Line Integrity and Maintain Them Within Allowable Limits on a Liquid Pipeline System (Field) | Pipeline Operations Level 2 | 9780134808437 |
| CT63_4-17 | Locally Operate Valves on a Liquid Pipeline System | Pipeline Operations Level 2 | 9780134808444 |
| CT64_1-17 | Start-up of a Liquid Pipeline (Control Center) | Pipeline Operations Level 2 | 9780134808451 |
| CT64_2-17 | Shutdown of a Liquid Pipeline (Control Center) | Pipeline Operations Level 2 | 9780134808475 |
| CT64_3-17 | Monitor pressures, flows, communications, and line integrity and maintain them within allowable limits on a liquid pipeline system (control center) | Pipeline Operations Level 2 | 9780134808383 |
| CT64_4-17 | Remotely operate valves on a liquid pipeline system | Pipeline Operations Level 2 | 9780134808482 |
| CT65_1-17 | Start-up of a pipeline (gas) | Pipeline Operations Level 2 | 9780134809199 |
| CT65_2-17 | Shutdown of a pipeline (gas) | Pipeline Operations Level 2 | 9780134809212 |
| CT65_3-17 | Monitor pressures, flows, communications and line integrity and maintain them within allowable limits (gas) | Pipeline Operations Level 2 | 9780134809236 |
| CT65_4-17 | Manually or remotely open or close valves or other equipment (gas) | Pipeline Operations Level 2 | 9780134809243 |
| CTCC-17 | Cold Cutting | Pipeline Maintenance Level 2 | 9780134808925 |
| CTFB-17 | Flange Bolting | Pipeline Maintenance Level 2 | 9780134808949 |
| CTMP-17 | Mud Plugging | Pipeline Maintenance Level 2 | 9780134808956 |
| CTTB-17 | Tubing | Pipeline Maintenance Level 2 | 9780134808970 |
| CTTP-17 | Threaded Pipe Fabrication | Pipeline Maintenance Level 2 | 9780134808994 |