Instructor Resource Center
Pearson offers a full suite of Instructor Resources to drive your classroom success. Watch this short walk through video before you get started.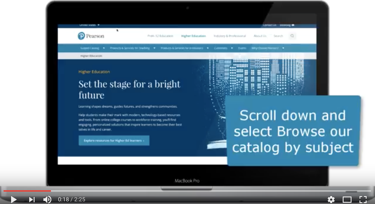 To Get Started Follow These Steps:
Select Your Craft
Select Your Edition / Level
Click Download Instructor Resource under the Education section
Under the "downloadable resources Only", select the resource you need
You will be prompted to either Sign In or Sign Up for access Click Sign In then Accept and Proceed to begin the download to your computer This website is passcode-protected, meant for instructor use only, and will provide you with access to: • Module Exams • Lesson plans • PowerPoints® • Performance Profile sheets
Go To Instructor Resource Center
Resources
Registration for the Pearson Instructor's Resource Center is a one-time process. - If you currently have a Pearson NCCERconnect account or Pearson Collections account, please Sign In with that same login information.
Access to the Pearson Instructor's Resource Center provides access to all craft areas / levels.
Additional resources may be added to this site as they become available.